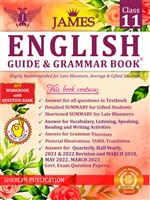 2023
11th English Guide & Grammar Book
done FREE Work Book Included.
Preview Coming Soon
11th English Guide & Grammar Book
About This Book
done Answer for all questions in the Textbook.
done Detailed SUMMARY for Gifted Students
done Shortened SUMMARY for Late Bloomers
done Additional Questions with Answer
done Poetic Devices
done Tamil Translation* and More...
FREE Work Books